Colorbond Roofing Melbourne
Colorbond roofing is a low maintenance, durable and cost effective choice for your home. It is available in a variety of colours and has been tested in the roughest of Australian conditions.
With a range of 22 colours, you can choose a roof colour that will freshen and brighten the look of your property or tie in with the existing aesthetic of your home. 
You can also mix and match our colour range. You can use one colour for your roof and complimentary colours for your gutters, fascia and downpipes.
Here at Gutters R Us Vic, we want to give you the best possible outcome. Whether that is increasing your property value for the sale of your house, or simply giving your family a new roof over their head because the old one was rusted, worn out and in need of being replaced.
Melbourne's Colorbond Roofing Specialists
In order to provide the best possible roofing service, our people are committed to using the most efficient and up-to-date tools, materials and techniques. They are also highly qualified and experienced in all aspects of roofing. Contact us today, and we'll appoint our most appropriate expert to manage your job, from quotation right through to completion.
The colour of your roof can make a difference when it comes to energy efficiency too. Colorbond have an extensive range of colours, some of which have qualified as solar reflective, according to the 'Green Star Community' tool. Five of the lighter colours in the Colorbond steel range have been proven to reflect heat emitted by the sun, thus making your home more energy efficient and lowering your cooling bills.
Similarly, all colours in the range (besides Night Sky) are equipped with Thermatech solar reflectance technology. A technology designed to reflect more of the sun's heat on the warmer days, making your home less dependant on air conditioning and reducing the stress your roof must endure during the hot Australian Summers.
Not only is the Colorbond range helping you save money, but it is also helping to save the planet. Colorbond steel is 100% recyclable and partially comprised of recycled material.
We source all the products we use from leading manufacturers. This ensures that we can offer our customers realistic guarantees and high quality finishes on all projects.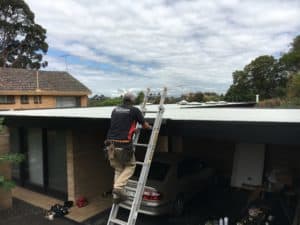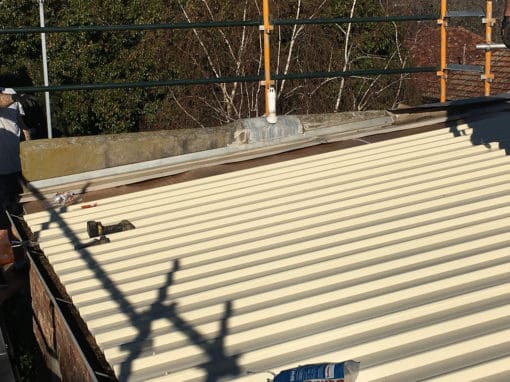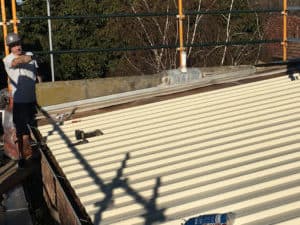 How much does Colorbond roofing cost?
One sheet of Colorbond steel roofing can cost anywhere from $18 – $37, this is due to the different types of Colorbond.
There are 3 main types of Colorbond roofing:
1. Powder coated
Powder coating is a dry, high quality finish which is proven to be more durable than liquid paint finishes. It prevents against chipping, scratches, corrosion, chemical weathering and weather conditions.
2. Double sided
Double sided Colorbond can be used for roofs on patios, pergolas and other outdoor living areas, it is a cost effective way to give a sleek finish to your property as it low maintenance, attractive and does not require painting.
3. Ultra Steel
Designed for extreme coastal and industrial purposes, it has been used on buildings such as the Outrigger Resort Centre, Hamilton Island and the Gold Coast Convention and Exhibition Centre.
How long does a Colorbond roof last?
With qualified roofing specialists installing your roof and regular maintenance and care, your Colorbond roofing should last a lifetime. Colorbond roofing is one of the more durable options for your roof due to the fact that it is resistant to cracking and peeling, and that it repels pests.
The longevity of your roof is dependent on not only your maintenance of the roof but also the conditions of the area in which you live, it is more likely for a roof on a house across from the beach to fade faster due to the winds, sun and salt, however there are steps that can be taken to combat these conditions.
Although the roof itself will last a lifetime, the vibrancy of the colour will fade over the years. When choosing the colour of your Colorbond roofing it is important to know whether your roof will be exposed to harsher conditions which will cause it to fade. Darker colours of roofing fade the most, therefore if you are aware that your roof will be exposed to higher amounts of harsh UV light, it is advised that you steer toward a lighter shade. Being smart about the colour you choose will ensure that your roof looks as good as new for a longer period of time.
What metal is Colorbond?
Colorbond is made from 100% Australian steel. The base panels are coated with BlueScopes's Activate® technology. Activate® technology is an industry leading metallic coating that prevents any type of corrosion. The steel also undergoes a pre-treatment, which is a thin layer applied to enhance the adhesion of any further coatings.
Is Colorbond roofing better than tiles?
Colorbond is a much lighter material to work with, it is approximately 90% lighter than average roofing tiles. This not only means that the handling and installation of the steel sheets is easier and faster but that the framing of the roof is not subjected to as heavy a load. Due to the lightness of the Colorbond steel you can even use lighter battens and space rafters in the build of the framing, reducing the price of your entire roof installation.
How much does it cost to repaint a Colorbond roof?
Roof painting is a much simpler and cost effective way to revitalise the look of your roof, it costs anywhere from $6000 – $20,000 (perhaps more), depending on the size and condition of your roof. If you are looking to freshen up your tired, worn out roof, painting it is a great alternative to a full roof replacement.
Frequently asked questions
Do you clean gutters?
No, we do not clean gutters
My gutter is only a little bit damaged, can you just repair it?
We would need to come out and inspect your gutters to assess if they require repair or replacement. At this time we will give you a quote for the work required.
What colours do you have?