Roof Repairs & Replacement Melbourne
In need of urgent roof repairs? Here at Gutters R Us Vic, we specialise in the maintenance, repair and replacement of roofing. Regardless of what type of roofing, building, heights, restrictions etc. we will be able to find a solution to fix any roofing issues that you may have.
Call Melbourne's roof repair specialists today on 1300 733 560
Our team of qualified roofing specialists provide roof repair and replacement services all over Melbourne. Our service areas include Metropolitan Melbourne and the Northern, Southern, Western and Eastern suburbs, no matter what suburb you live in we'll be there to help.
With years of experience we have gained knowledge of all roof types and of any type of issues that may arise. This means that our team is equipped with not only the equipment but also the experience and understanding to be able to fix any roofing problem that you may come across.
Included repair services:
Repair of any leaks
Complete or partial re­pointing and/or re­bedding
Replacement of broken, cracked, shifted, or chipped tiles
Fascia and fascia board
Flashing
De­mossing and/or pressure cleaning
Valley irons
Application of sealer and/or roofing paint
Installation and/or replacement of gutters, downpipes and/or box gutters
Rusted, damaged or inadequately installed gutters and downpipes generate problems for many Melbourne home owners. All roofing and guttering is bound to degrade over time, but it shouldn't affect the quality and integrity of your home, or endanger your family. Issues with gutters, downpipes and other aspects of your roofing can cause leaks which can later result in rotting, rust, stained walls, sagging and even collapsed ceilings.These issues need to be addressed sooner rather than later, that's why we recommend regular maintenance and checks of your roofing and gutters as it will allow for any small issues to be noticed and addressed before they cause major damage.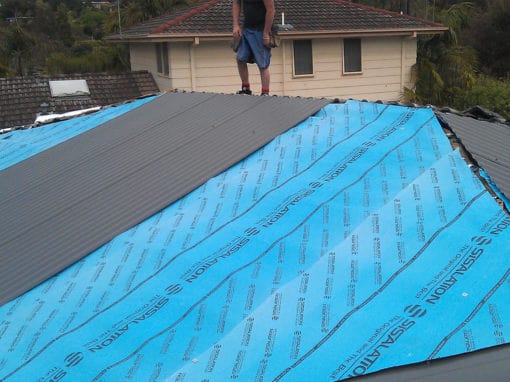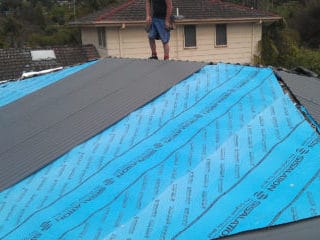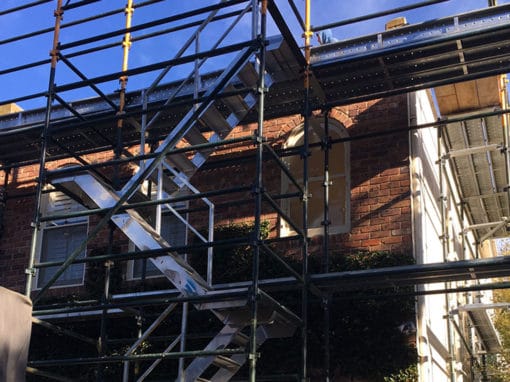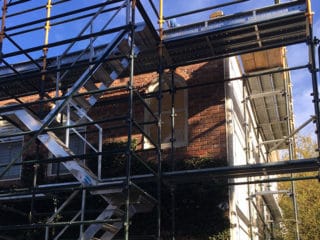 Professional roof replacement services, at competitive prices
If your roof is at that stage of no return, we provide comprehensive roof replacement services to all of Melbourne and surrounding suburbs. We aim to not only provide you with a brand new, fully restored roof but also with a roof that requires minimal maintenance and repair works in the future.
However, degradation is not the only reason for a roof replacement. A new roof can completely change the aesthetic of your home, thus increasing the value of your property, or just making your home more appealing to the eye.
Our team offers a free, comprehensive consultation, assessment and inspection, providing you with an accurate quote of the cost for re-roofing your home. We will advise you of all your options, helping you to determine whether a roof replacement is the best solution for you.
Whether it be big or small, we have the roofing repair and replacement solution for you! Just call today on 1300 733 560 to organise your free quote today.
How long should a roof last?
Homeowners with fiber cement shingles can expect their roofs to last about 25 years and asphalt shingle/composition roofs last approximately 15 years if not less. Whereas, metal roofing usually lasts, on average, between 40-70 years, depending on which material is used, with copper having the highest life expectancy at 100 years (this is with regular maintenance and care)
How much does it cost to replace a roof?
The only way to know the cost of replacing your roof is for us to assess your roof and provide an honest and reliable quote.
Does a new roof add value to your home?
A survey provided by Remodeling Magazine's 2013, "Cost vs. Value Report", states that a new roof significantly increases home resale value by a national average of approximately $12,000. This survey also revealed that homeowners who have a new roof can expect to regain 62.9% (on average) of the installation cost through the increase in their home value.
Which is better, metal roof or shingles?
While at first a metal roof can cost at least twice as much as an asphalt shingle roof, it can ultimately save you a third of the overall cost over the course of a 60 year period, this is due to the durability and energy efficiency of metal roofing. Metal roofing reflects the heat making the space beneath your roof cooler and helps to reduce your energy usage in Summer due to its insulative qualities.
Should I get a new roof?
As your roof ages and several of the components are in need of repair, the roof should be replaced. If more than about 35% of your roof is in need of repair due to wind, hail, corrosion and other factors, it will need a full replacement as it is the most cost-effective and safest decision for your home or building.
Frequently asked questions
Do you clean gutters?
No, we do not clean gutters
My gutter is only a little bit damaged, can you just repair it?
We would need to come out and inspect your gutters to assess if they require repair or replacement. At this time we will give you a quote for the work required.
What colours do you have?